During the week after school closed I watched with much frustration (and a bit of envy) on social media whilst some of my friends' children quickly completed all the activities that school had sent home while I tried to balance an increased workload and replicate the school day…epic fail. All it resulted in was making me feel overwhelmed.
I'm no stranger to working at home, but this is different.  Taking requests for snacks and drinks every 10 minutes, supervising the completion of school work, refereeing disagreements that break out while trying to research covid-19 and meet work requirements drained me.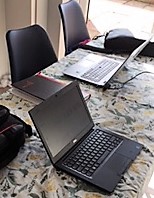 I've always found physical activity to help my own wellbeing; it gives me time to work through challenges and recharge my batteries and I felt torn between getting some time to myself and taking my children out to exercise which was having a detrimental impact on me.
In the second week, the school posted a supportive message that the activities provided were intended as ideas only and that given the nature of this situation the most important thing we could do was to support our children and help them engage in fun activities.
So what did we do instead?
I've been able to set allocated breaks in my working day, where possible so that at different times I am able to give the girls my undivided attention, even if it is just for a short period.
We've coloured rainbows and stuck them in our windows, we've painted stones and left them on friend's doorsteps, we've chalked on the drive, the patio and on the fence. We've planted vegetables and bedding plants and played family football, hide and seek and tag in the garden a lot.
On some days, they've had a lot of screen time, more than I'd usually be comfortable with, but sometimes that's the only way I can meet work obligations.
We've shared stories, my oldest daughter loves English and has done some creative writing independently and with my youngest, I've managed some hands-on maths (whether that's baking, cleaning, counting the birds we see or the flowers we have in our garden, or counting our stairs) and she's made things with play dough which helps the development of fine motor skills.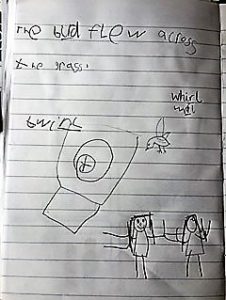 We've talked….a lot. Especially with my 9 year old, who is finding the situation difficult. She misses her teacher, so we have been in regular email contact with him and he has even offered to call her at home (thank you). She misses her friends, so we have built in regular video calling sessions with them every week. She misses her activities so we have made a dream jar; adding things we'd like to do when this is all over. They range from going for ice cream at the beach to having friends over for a meal.
We've split our physical activity so that some days we all get to exercise together and on other days, I get to go out on my own. This has also had a positive impact.
So for now, we've abandoned the time table and are trying to find the fun in this situation and look after our wellbeing. I am teaching my daughters how to look after themselves and each other and how to be resilient. Whatever you are doing whilst working at home and supporting your child's learning – you are doing enough. That is all that matters.
Suzanne Helm
Mum and Online Trainer, Recovery College Online.
Email: suzanne.helm@nhs.net