These versions of our free online course have been written for children aged 7-12 and young people 13-18 as a way of learning about the global COVID-19 pandemic.
They will learn helpful information about what the new virus is, how to stay healthy and do their best not to pass it on, how they might feel about it, things to do at home and how they can help themselves.
Click on the images below to access the courses: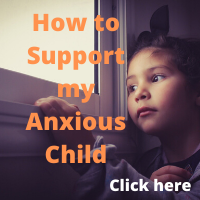 How to talk to children about the Coronavirus
This is a confusing time for everyone. Here are some tips to keep in mind when talking with children.
(Adapted from advice by Tina Payne Bryson and National Association of School Psychologists)
1) Keep it simple and be honest.
Children are often savvy enough to know if adults aren't being honest (they can sense our hesitation and anxiety) and they can get overwhelmed with lengthy explanations. Provide simple explanations based on the facts and government guidance.
2) Remain calm and reassuring. Manage your own big feelings.
Children will react to and follow your verbal and nonverbal reactions.
Adults really do set the emotional tone for our children. Our chaos or calm are contagious, especially to those we spend the most time with. What you say and do about COVID-19, current prevention efforts, and related events can either increase or decrease your children's anxiety.
If you are informed, calm internally, and share bits of information about what we can control, you will dial down your child's anxiety. If true, emphasize to your children that they and your family are fine.  Remind them that you and the adults at their school are there to keep them safe and healthy.
Let your children talk about their feelings and help reframe their concerns into the appropriate perspective.
3) Validate any concerns or feelings.
We want our children to feel: Safe, Seen, Soothed, and Secure. We do that by active listening, helping them to label their feelings, supporting them in asking the questions they need to ask, and validating whatever it is they are experiencing. When they feel seen and heard, they are more likely to have a sense of safety and security.
4) Allow them the space to talk further.
For any child who appears to need to talk about these concerns or ideas further, let them know they can always ask more questions or re-open the conversation.
If your child is upset and shares that he is anxious and worried that he might get sick with the virus, it is important that your child's experience of sharing that with you is a positive one, so that they know that coming to you and talking to you is a good thing. Try to avoid a "dismiss and deny" response that may make  your child think you are not that interested in their feelings about it, or that you're not able to handle their big feelings.
Don't: "Suck it up and deal with it, Kid".
Do: "I'm here, I'm listening. We'll get through this together."
5) Monitor television viewing and social media. 
Limit television viewing or access to information on the Internet and through social media. Try to avoid watching or listening to information that might be upsetting when your children are present. Speak to your child about how many stories about COVID-19 on the Internet may be based on rumours and inaccurate information.
6) Maintain where possible a normal routine. 
Keep to a regular schedule, as this can be reassuring and promotes physical health. Encourage your children to keep up with their schoolwork and extracurricular activities, but don't push them if they seem overwhelmed.
7) Make efforts to stay connected
Guidance around social distancing and self-isolation can result in individuals feeling disconnected and lonely, increasing risk of low mood and anxiety. Coming up with creative ways to stay connected with friends and family can be helpful in buffering this. For example using video calls, sending emails, board games, post cards, create a family tik tok video, online gaming can also help with connecting. Be mindful of spending too much time on social media and the effects of misinformation, if appropriate create a routine around screen time.
8) Managing the home environment
Prolonged time with family can be stressful – just think of Christmas! If able, allow people to have their own space, if helpful come up with home rules around personal time and space.
9) Anxiety
It is normal and healthy to feel a level of anxiety with regards to the current circumstances surrounding coronavirus, we are dealing with uncertain times. If you know you are prone to catastrophising or overly anxious thinking, reconnect with techniques that have helped in the past, whether that be CBT techniques, mindfulness techniques or physical activity.
Read more on Anxiety.
Advice regarding hand washing can also be a trigger to certain symptoms related to OCD therefore continue to connect with techniques that have helped in the past.
Read more on OCD.
10) Low mood
Similar to anxiety, the current circumstances surrounding Covi-19 can create conditions that trigger low mood. Therefore maintaining habits for positive wellbeing are useful: Maintain appropriate sleep hygiene (avoid oversleeping, keep same the same times wake and go to sleep); try and maintain physical activity; connect with people that are helpful; continue to engage with activities that make you feel competent, confident and give you a sense of purpose.
Read more on Low Mood.
Useful resources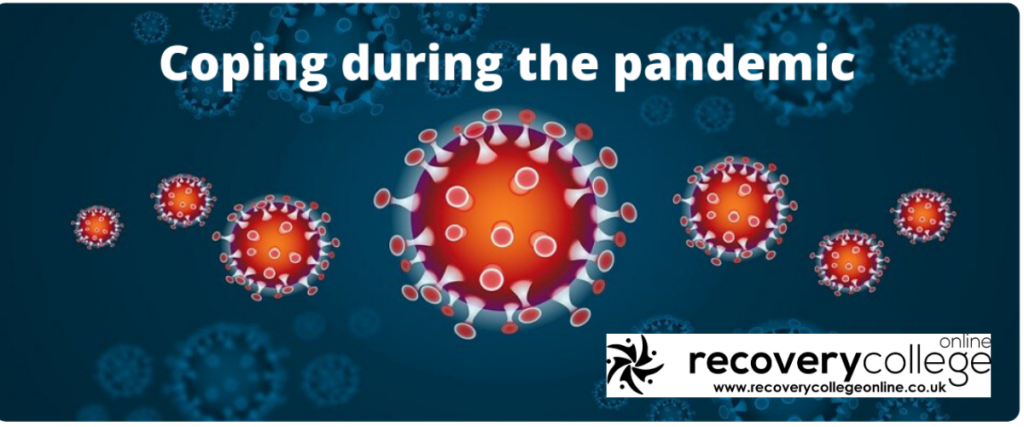 Our free online course has information about how to avoid catching/spreading the virus, what immediate feelings you may have and common reactions, managing your mental health at this time, managing isolation and social distancing, self-care, supporting children and young people and some accessible information.
The course is free to access for everyone. Click on the above image to begin.
We also have a page with the latest info & guidance here: Coronavirus.
Click the images to download the documents.
An autism-friendly guide from www.theautismeducator.ie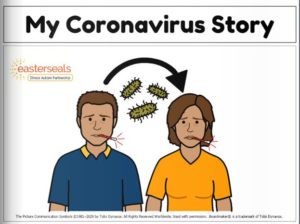 An Easy Read flip book for children with learning disabilities or accessible information needs, explaining the virus and why schools have closed.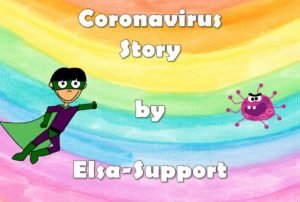 A story for children, produced by and Copyright ELSA Support  www.elsa-support.co.uk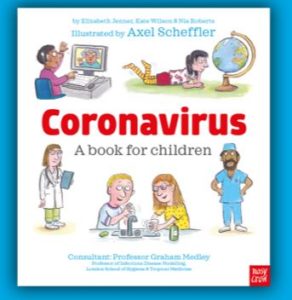 A free information book explaining the coronavirus to children, illustrated by Gruffalo illustrator Axel Scheffler, from Nosy Crow.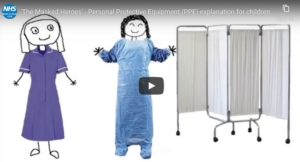 NHS North Cumbria have made this video to explain PPE to children visiting hospital at this time.
The Anna Freud National Centre for Children and Families have produced this video: Supporting parents and carers through disruption
The Mental Health Foundation: Talking to your children about scary world news
CBBC's Newsround has lots of good information and advice for children, including: Coronavirus: Here's some advice if you're worried about it
Advice from NHS Tees, Esk and Wear Valleys Foundation trust: 10 ways to support your children during the pandemic
Advice from YoungMinds: Talking to your child about coronavirus.
Advice from Child Bereavement UK: Supporting bereaved children through difficult times (COVID-19)
Guidance from Winston's Wish:  Talking to bereaved children about COVID-19
Advice from Cruse UK: Tips for coping with the talk of death and dying around Coronavirus