Personal recovery is used to describe the process of building a meaningful and satisfying life, with or without ongoing difficulties/symptoms. This is different to what is meant by clinical recovery, which refers to the point where symptoms have gone, for example, a person will have recovered from a cold when they stop coughing and sneezing.
Personal recovery is felt to be much more relevant when we are thinking about mental health and distress, as often it is not the diagnosed symptoms that are the most troubling thing for people. They may wish to have a greater sense of purpose, an understanding of their distress or more control over what happens to them.
Although reducing symptoms or certain feelings by using things like medication and therapy is very important and useful for many people, personal recovery goes way beyond treatment. Everyone's ideas about their own recovery will be different, and this is why it can be difficult to describe exactly what recovery is.
A lot of research has been done to help to describe what personal recovery is, and from this, some key themes have been found. These are things that are important for all humans – connectedness, hope, identity, meaning and empowerment (see separate links for each of these).
Personal recovery is often seen as a journey. People set goals, discover new things, make new relationships and gain control over their lives. Because recovery is not about 'cure', it may not be anything to do with returning to how a person once was.
Supporters can be really important, and have a massive part to play in being hopeful, encouraging and not imposing their ideas of 'what is right' for the person. Mental health services should work with the person to support them towards their goals.
"Recovery: The New Me": Online Resource
Our free online course 'Recovery: The New Me' provides an overview of the 5 factors, known as CHIME, that both service users and professionals have created together to improve personal wellbeing.
To explore this resource, and more, head over to our e-learning site where you will need to create a free account.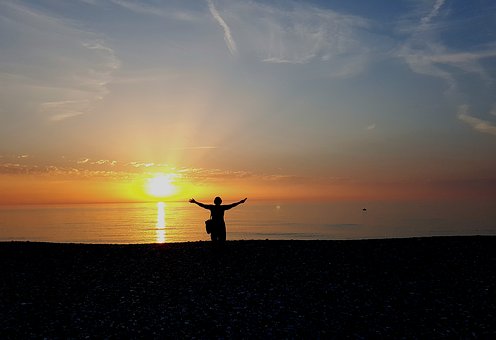 Real life experience
Personal recovery is about reaching a stage in your life where you feel that you are able to live well in spite of your illness or diagnosis. You don't necessarily have to be clinically recovered and symptom free to have achieved personal recovery.  Personal recovery is unique to the individual and people may feel they have reached this at different times.  For example, for some people, if they are able to carry out their every life tasks unaided and live independently they may feel that they have reached their personal recovery.  For other people, personal recovery may involve more abstract ideas such as being able to feel better about themselves, feeling in control of their life and making decisions independently about their future.  The criteria for personal recovery can only be agreed by the individual, while it might help to discuss this with professionals, friends and family, the ultimate decision maker is you.
After my first hospitalisation and episode of psychosis I was determined that the milestone I wanted to achieve for personal recovery was that from the outside I appeared just like any of my other friends. I didn't want my diagnosis to hinder the opportunities which I could have in the future and was determined that I would work, go on holidays, socialise and maintain the relationships I had developed prior to my illness.  I was told by some professionals that perhaps this was setting my personal recovery goal too high and I should reconsider, but it was my recovery and I knew what I had to achieve to make me feel satisfied that I was living a fulfilling life, it just might take me longer than others to reach my recovery.
Four years later, I am proud to say that I have reached my personal recovery. Bipolar disorder is still a part of my life but it no longer defines my life.  I am able to manage my illness in a way that I can also be in recovery.
---
I first got recommended to ARCH Recovery College, Durham by my CPN.  I was nervous and anxious when I met the team.  The building was quiet and I got signed up as a student.  Over time I did a few courses each week. The staff are all warm and friendly and any problems you can easily speak to a member of staff.  Some courses I can't take it all in and the handouts; for me there's sometimes too much information at once, but some of it logs in my head.  Sometimes I don't like it when you have to do one-to-ones with the person next to you, as it can sometimes be awkward to start the talking about a subject and myself, then other times it can be a nice person who is easy to talk to.  A good thing is if I'm feeling very low or stressed, you can leave the room and go into a small library room where it is quiet and be alone for a while, or a member of staff will come in and have a chat, they're very supportive.
I've had some good courses, especially 'mindfulness', 'mind, body and spirit', and learning about prescription tablets.  Sometimes, a course needs to be taken again to remember parts that I have forgotten.  One of the team has the best soothing voice for meditation.  Another member of the team does the singing class; that is good and helps uplift you and being with other people – it's good company.  Then the walking group led by another two members of the team; both are brilliant, we do the group walk.  It's been two years now of that, being a group together on the walk and talking to staff along the route and other walkers.  Sometimes I feel distant, alone and feeling not part of the group, and a few times I can't manage the full walk, but the staff are great.  Lately I've just felt very low, I hide it most of the time by just joking on and seeming okay, but the Wednesday walk I look forward to it; you've got to have something in the week to look forward to.
Two volunteers lead the Mind, Body and Spirit class; that is good, it's relaxing and a few dance/exercise movements.  Also at ARCH I can make a coffee anytime through the course.  It's very safe, warm and a friendly place to be.  At first, my CPN said it's just a year to do at ARCH Recovery College; but I've been able to stay longer and I think I have attended ARCH for 3 years or over now.
I suffer from chronic depression, anxiety and panic attacks.  It all started from way back in the new year of 1976 when I found my mam after she'd taken her own life.  I was out seeing the New Year in and got the strongest, weird feeling in my head and whole body.  I knew at 1.20 am that something had happened and that she was dead. I was right.  I felt guilty that I'd not stayed at home that night with her.  From then on I worked hard, I drank at break times, at night and on weekends.  I got married when I was 28 years old and it was okay at first,  but then it just went downhill slowly over the years, and with money problems, working very long hours, the thoughts of mam always in head, my wife was very argumentative, the house got repossessed. I ended up bankrupt and caught my wife with another bloke and we then divorced.
I was in hospital with my mental health for over 3 months during my marriage, I packed my job in, and tried suicide quite a few times.  The hospital staff were brilliant. I have moved house quite a lot, but nowhere feels like home.  I've been living on my own for over 20 years and it's getting so worse of being lonely.  All my friends have gone; I used to have a lot, some died and others just moved on, got married, moved away, or I fell out with some.
I personally have suffered with this illness for a very long time. Citizens advice have helped me lots of times; they are brilliant.  My local MIND are brilliant, and other support groups and organisations have helped me, and places like ARCH Recovery College, which is safe and I feel at home.  You need love, care, company, support, and friends.  Medication is not enough.  A class to help deal with this (life situations) would help and ARCH does in some ways.
Anything I can say to help I will.
-February 2021
---