Having a sense of meaning and purpose is essential for humans as we need to feel that we have a role. This role might be through our connections, our sense of hope or our identity. So, we may get out of bed on a morning because we want to see someone important, because we think the day might be better than the one before, or because we are going to college, work, voluntary work, a club or group. We all find meaning in very different ways. Some people may find spirituality important, while others may find fulfilment in volunteering, caring for others or the development of stronger interpersonal or community links. Many people describe the importance of feeling valued and of contributing as active members of a community. Our sense of meaning can sometimes get lost or overshadowed by distress, lack of motivation or the attitudes of others. At these times it is important to remind ourselves (or have someone remind us) of our meaning.
Recovery College students have described meaning as:
"Doing something or having something to look forward to that will give you a sense of purpose"
"A reason to get out of bed. Motivates you to get going"
"Being part of something which helps you feel fulfilled"
"Making a difference to others – helping people, by sharing my experiences and listening to them, gives my life meaning"
"Discovering a new interest or hobby or something new that I enjoy doing gives me a renewed sense of meaning"
Developing our sense of meaning does not have to involve a grand ambition – we may admire people to devote their lives to championing a specific cause or undertake rigorous training in hopes of winning an Olympic medal, however, for most of us we find meaning and purpose in a number of varied and every-day ways. By thinking about our personal values, strengths and passions we can begin to explore opportunities to build a greater sense of meaning in our lives.
What strengthens our sense of meaning? Recovery College student contributions:
"Being open to trying different things."
"Getting support to explore new opportunities."
"Concentrating on stuff you feel passionate about."
"Appreciating all the little, day-to-day things."
"Voluntary work has given me given me a really strong sense of meaning. I get a lot of fulfilment out of knowing that I'm helping other people and giving something back."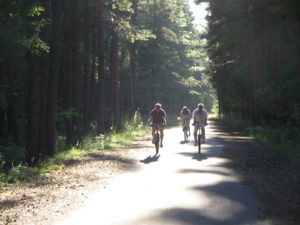 Real life experience
I didn't give much thought to meaning in my life until after my last episode of illness.  Life itself becomes meaningless when I'm ill.  It seems pointless, I feel worthless and nothing matters to me.
After that last episode I had the opportunity to think about meaning during a course I attended.
Looking back I could see that even when I was well my sense of meaning was focused on supporting my family to the exclusion of almost everything else.  Supporting my family is the very best place for me to find meaning and always will be but I realised that living like that I was isolated and my wellbeing was fragile.  Whenever I felt I was failing them my sense of self-worth would tumble and all those negative thoughts and feelings would come back.  As I had little sense of meaning outside of my family there was nothing in my life with which to challenge them.
More determined to stay well this time I wanted to do something about that.
There are probably as many ways for people to find meaning in their lives as there are people. For me it came through thinking about what is important to me and trying things out.  It didn't happen overnight and it wasn't always a deliberate change in response to what I'd learned but following the course I allowed myself to become involved in things that seemed worthwhile.  As I became well I wanted to give something back to those who had supported me and use my experience to support the wellbeing of others so I started to volunteer in places where I could do that.
Volunteering I can make a difference to other people's lives and that's an amazing thing.  It's immensely rewarding and fulfilling but as well as that I've found that when I mean something to other people I mean something to myself.  I can allow myself to believe I am a worthwhile person with worthwhile things to give and a worthwhile place in the world.  This allows me to think of my illness as more than just pointless suffering too.  It brought me to this place and gave me the experience I needed to help.
It took some time and a little help for me to feel it was ok to take this time away from my family but pushing out, finding meaning in other areas of my life I've found a kind of balance.  If one area of my life is difficult and I'm feeling down about it there are others where what I do is uplifting and nurturing.  I'm still able to see myself in a positive light and keep my self-esteem up and the feelings of hopelessness and worthlessness at bay.
I'm stronger.